Eggplant Parmesan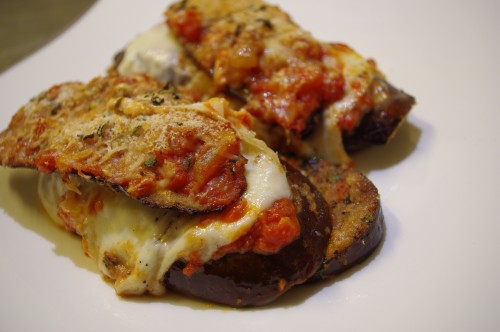 This eggplant Parmesan tastes exactly like the ones that you have tried at authentic Italian restaurants. Served hot over  pasta or any other of your choice, the saucy and cheesy eggplant is a pure vegetarian pick that is hard to resist. Certain the mozzarella threads will tie you to this delicacy even more.
Servings: 6-8
Cooking time: 4 hours.
Ingredients:
6 eggplants, peeled and diagonally sliced into 1/2 inch pieces
3/4 teaspoon salt
1/4 cup olive oil
2 eggs
1/3 cup water
1 cup pasta sauce (prepared or homemade)
3 tablespoons cornstarch
1/2 cup Italian seasoned crumbs
3/4 cup Parmesan cheese
1/2 cup mozzarella cheese
1 medium onion diced finely
Fresh basil leaves
1 teaspoon minced garlic
Directions:
Combine all the ingredients except the bread crumbs, Parmesan and half of mozzarella cheese in the slow cooker.
cover and let cook for 6-8 hours on low heat.
Add in the remaining mozzarella cheese with the basil and cover for around half an hour till the cheese melts.
Heat a little oil in a skillet and toast in the bread crumbs with Parmesan cheese.
Serve the eggplant Parmesan individually in bowls, topped off with breadcrumbs.
To serve: serve hot with any of your favorite pastas. Garnish with fresh parsley.
Variations: add in fistful of spinach to make your eggplant Parmesan more exciting.
Categories: Basil, Egg, eggplants, Garlic, Hot, Italian, Italian seasoned crumbs, Olive Oil, Onion, Parmesan cheese, pasta sauce, Salt, Side Dish, water