Country Style Ribs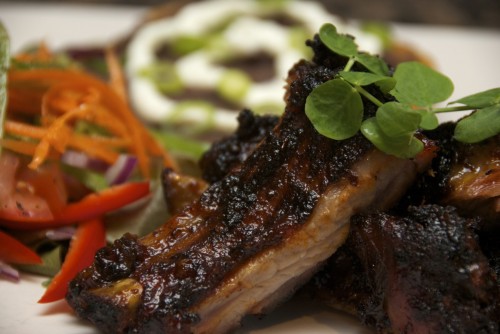 Lamb ribs taste best when left to simmer for several hours in the slow cooker. Flavor of the BBQ sauce mixed with the thin shredded apples give it a distinctive sweetness while the spicy rub on the ribs fills every bite with a peppery flavor.
Deciding on what to make for dinner which is equally enjoyed by the whole family is a little difficult. But we have made your job easy! Select this recipe for today's main course and get ready for its warm luring aroma drifting through the house. Serve with mashed potatoes and French onion sauce and amaze your family with their next most favorite dish.
Servings: 6
Cooking time: 7-8 hours
Ingredients:
¾  cup barbecue sauce
1 onion, sliced into wedges
1 apple, thinly sliced
4-5 pounds country style pork or beef ribs
3 tablespoons olive oil
1 1/2 tablespoons paprika
1 tablespoon sugar
1 tablespoon salt
1 1/2 teaspoons mustard powder
1 tablespoon chili powder
1 tablespoon roasted cumin
1 1/2 teaspoons black pepper
1 tablespoon minced garlic
1 1/2 teaspoons cayenne pepper
Directions:
Mix salt, paprika, sugar, mustard, cumin, garlic, black pepper and cayenne pepper together.
Rub the mixture well over the ribs.
Spread oil on the pot's surface.
Layer onions, apples and ribs on the slow cooker and cover with barbeque sauce.
Cook on low for 7-8 hours and serve with French onion sauce and mashed potatoes.
Categories: Apple, Barbecue sauce, Beef, Black Pepper, Chili powder, Cumin, Garlic, Main Dish, Mustard Powder, Olive Oil, Onion, Paprika, Salt, Sugar