Corned Beef and Cabbage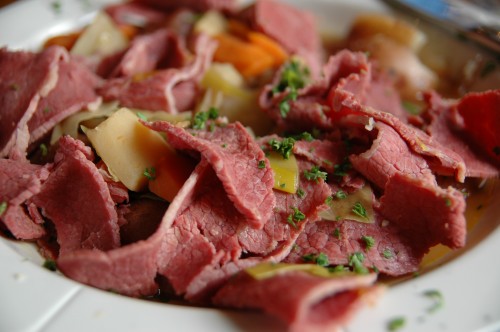 This Saint Patrick's Day you just got lucky as we bring to you the crock pot versions of some of the simplest Irish recipes- without these the celebrations are just incomplete. Give yourself a break too by bringing the slow cooker into action and letting it do all the work while you sit back and enjoy the holiday.
Corned beef refers to the beef that is treated with corns of salt that both preserves and flavors the meat. It is considered native to the Irish cuisine, and goes well together with mustard as given in the recipe. Conventionally, the beef and vegetables are just boiled together. Hence, the dish also takes the name of 'New England boiled dinner.'
Cultural ties apart, this side dish make a great main course for seekers of healthy recipes.
Ingredients:
4 pounds corned beef brisket
2 medium onions cut into four
1 cabbage coarsely cut
1/2 teaspoon pepper
½ teaspoon salt
2 1/2 tablespoons vinegar
2 tablespoons sugar
1 tablespoon Dijon mustard heaped
2 cups water
3 Potatoes washed, unpeeled and cut into wedges
Directions:
Combine onions and beef briskets in the slow cooker. Layer cabbage on top
Add in salt, pepper, mustard, sugar, vinegar and water.
Cover and cook on low heat for 6 hours.
Add potatoes. Cook for another 4 to 6 hours.
Make sure that the beef is tender but intact.
Serve hot.
Categories: Beef, Black Pepper, Cabbage, Hot, Irish, Mustard, Onion, Potato, Saint Patrick's Day, Salt, Side Dish, Sugar, Vinegar, water