Caramelized Onion and Cheese Toasts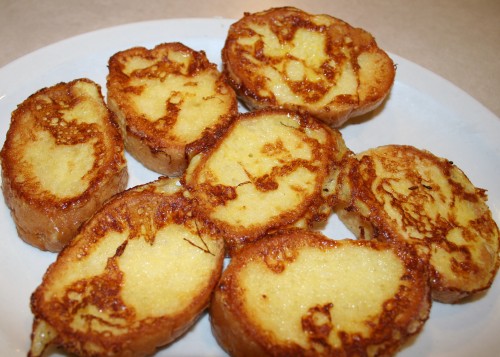 Presented is the perfect appetizer to begin your thanksgiving dinner with. The fusion of goat and cream cheese gives it the richness ideal for the generous occasion. The caramelized brown sugar is an irresistible trigger to your taste buds.
Cooking time: 2 hours
Servings: 24
Ingredients:
2 cups thinly sliced onions
2 capsicums chopped
2 tablespoons unsalted butter
4 tablespoons balsamic vinegar
2 tablespoons brown sugar
1 teaspoon orange zest
1 cup fresh goat cheese, softened
1 cup cream cheese, softened
2 French loaves
½ teaspoons salt
½ teaspoon pepper
½ teaspoon crushed red chili
½ teaspoon oregano leaves
Fresh parsley
Directions:
Cut the French loaves diagonally into 1 inch thick slices. Toast them in the oven for 10 minutes.
Combine onions, capsicum, butter, salt, pepper, oregano, chili, vinegar, orange zest and butter in a slow cooker and mix.
Sprinkle brown sugar over it and lid.
Cook on high heat for two hours, or until the mixture is caramelized.
Beat together the two cheeses till they form a smooth mixture.
Place a spoonful of the onion mixture on each slice of toast. Also scoop cheese over it. Sprinkle parsley on top.
Toast the slices in the oven so that the cheese turns golden.
Serve hot.
Or: Add chicken or beef mince to the mixture to add flavor and richness to this hearty appetizer.
Categories: Appetizer, Black Pepper, Brown Sugar, Capsicum, Crushed red chilli, French loaf, goat cheese, Hot, Onion, orange zest, Oregano, Parsley, Salt, Thanksgiving, unsalted butter, Vinegar