Aromatic Apple Honey Pie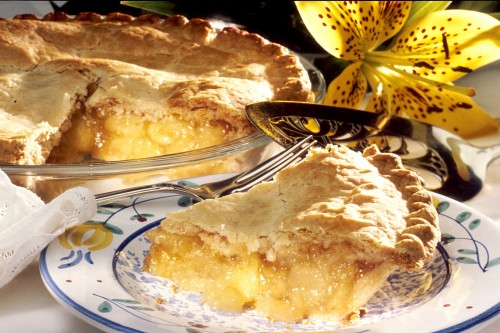 Apple Pie can fittingly be America's most famous dessert. The aroma of freshly baked pie right from the oven was once customary in every home. Spoil yourself and the family with this simple and effortless slow cooker recipe and wake up to this deliciously warm and cozy apple pie breakfast. The sweetness comes from honey and brown sugar that makes it ideal for health conscious folks.
Cooking time: 7 hours
Servings: 6
Ingredients:
8 cups apples remove skin, seeds and cut into thin slices
1 teaspoon cinnamon
1/4 teaspoon nutmeg powder
2 eggs beaten
3/4 cup milk
1 tablespoon vanilla essence
1/2 cup honey
5 tablespoon butter
1/3 C brown sugar
1 ½ cup ready-made baking mix
Directions:
Grease slow cooker with oil
Combine and toss together apples, cinnamon and nutmeg. Place in the slow cooker.
Mix eggs, milk, vanilla, and half the butter together. Beat well and pour on the apples.
Separately combine brown sugar, baking mix and butter, mix together till it forms crumb-like mixture.
Place over the batter and lid.
Cook on low for 6-7 hours.
When done, spoon the pie out and serve with whipped cream.
Categories: American, Apple, Baking Mix, Brown Sugar, Butter, Christmas, Cinnamon, Dessert, Egg, Honey, Milk, Nutmeg Powder, Vanilla Essence, Warm